Welcome dear readers and writers. Meteorio.com has come up with a unique way to make reading and writing special for everyone who visits our portal. We have inaugurated Writer's camp program where you can share your knowledge and thoughts with thousands of people on the web. So, if you are someone who loves to write and looking for a platform to put your thoughts on, Writer's camp program is the most desirable program you should join. Here is a chance to put your thoughts into words and help others with your knowledge. So, let me quickly tell you the salient features of the program
Earn one-time cash up to 500 INR plus extra bonus every month for every article published on meteorio.com.*terms & conditions
Become Writing Celeb and grow your loyal fan following.
The program doesn't require to leave your job or spend numerous hours every day. Trust me, everything is under your control. You will never have deadlines.
Currently, we only support Hindi and English, but soon even your local language is going to be incorporated.
You get complete support from our team via email and and our private WhatsApp group.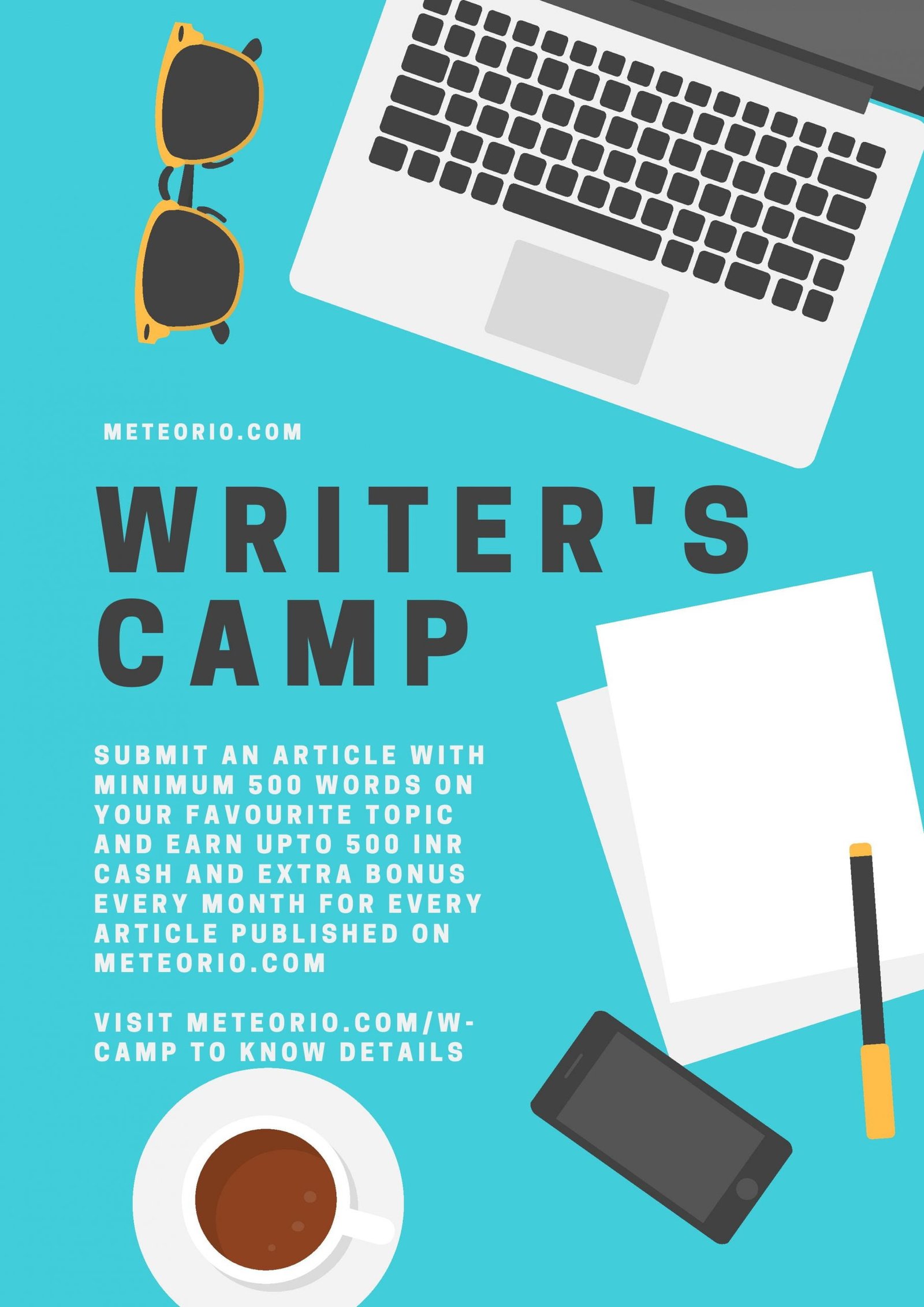 I can go on and on about the benefits you can expect from the program. But, now let's talk about the steps to get started.
Step 1:
Click here and fill up the author registration form. Once we receive your details, we will email you invitation to join our private whatsApp group.
Step 2:
Start preparing your favourite article and email us at the provided email address( We will update all details with the invitation email that we will send you )
Step 3:
Once we receive your article, we will start evaluating, if that fits our community. Once your article qualifies the step, we will add it on our website and initiate your payment. Please note, the amount varies from 50 INR to 500 INR based on the topic and quality of the article you write. We strictly verify plagiarism to make sure the content is original and unique. If the article fails the plagiarism test, we will have to reject it and inform you about it, you might make the required changes and resend the article.
Step 4:
After we are done with the review and we have sent you the initial amount, based on the performance of the article ( Refer to How we make money section to know how we measure article's performance ), we will keep sending you bonus amount on a regular interval ( mostly monthly )
Prerequisite
Must be familiar with WordPress or Fundamentals of HTML and CSS
Should have skills required for designing resources for blogs. Example designing basic banners etc.
Should be willing to do research on topics and write articles consistently.
How we make money?
So, now you are aware of the steps we follow to publish articles on our blog. You might have this question in mind, "Why would these guys pay me for my articles?". Here is the answer to your legitimate question. The more informative article you write, the more traffic we will get from search engines like Google and other social media platforms. The more traffic we get, we stand a good chance to make good money by showing relevant advertisements to the readers. Those advertisers pay us advertisement fees and we will pay you out of those advertisement fees. Everyone wins. Isn't that cool?
Allowed Topics
Although we are working hard to include more popular topics, currently we have a bunch of topics that we support. Here is a list of topics we currently support. This list will be updated regularly with new topics based on demand.
Lifestyles
Health and Fitness
Mental health and Well being
Parenting
Motherhood
Yoga and Meditation
Motivational and inspirational contents
Bring on your thoughts and share it with the world. We hope to see you soon on board.